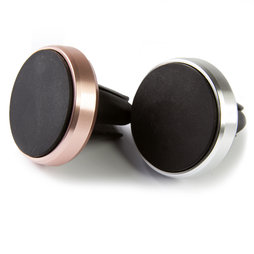 Cellphone mount Car
magnetic cellphone mount, to attach at the ventilation
Please select your desired model.
Description
This practical magnetic cell phone mount makes it easy to attach your smart phone in the car.
Easy & quick: Simply attach your phone to the mount and remove it when you get out of the car.
Secure hold: The magnet in the mount secures your phone while driving, even during curvy and bumpy rides.
Simple set up: The magnetic mount is easily attached to the air vent. It does not impact your line of vision.
All-purpose: The magnetic mount for the car is suitable for cell phones and smart phones of all sizes.
Flexible: If you position the metal disc in the middle of your cell phone, you can attach the phone horizontally or vertically.
Included in delivery:
1 magnetic mount (front side rubberised), 1 small round self-adhesive metal disc, 1 large angular metal disc with glue dot, 1 adhesive foil.
Read about more features and tips
Technical data
| | |
| --- | --- |
| Article ID | M-VM-01 |
| Material | NdFeB |
| Diameter | 33 mm |
| Height | 33 mm |
| Accessories | Metal Plate (self-adhesive) |
| Weight | 50 g/set |