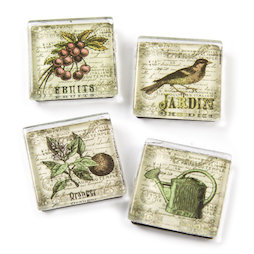 Garden
fridge magnets with garden motives, set of 4
Description
This article is remaining stock. As soon as the inventory is sold, it will be taken out of the assortment.
For gardening enthusiasts we have beautiful vintage magnets with different themed motives.
The backside may leave dark streaks if the magnet is rubbed hard over a surface. Such streaks can be removed with a wet cloth.
Read about more features and tips
Please note

This article is not suitable for use on magnetic paint or magnetic glass boards. Please refer to our FAQs to find out which magnets are recommended for such use:
FAQ magnetic paint & FAQ magnetic glass board
Technical data
| | |
| --- | --- |
| Article ID | SALE-092 |
| EAN | 7640161867697 |
| Quantity per set | 4 pieces |
| Height | 30 mm |
| Width | 30 mm |
| Sticks to whiteboard | 5 A4 sheets |
| Brand | Trendform |
| Weight | 100 g/set |