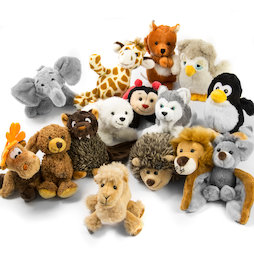 Magnetic plush toys
with sewed-in magnets
Please select your desired model.
Description
These cute plush toys hang around the magnetic board or fridge and easily overcome gravity while looking good. "Do these animals have superpowers?" you may ask yourself. Yes, they sort of do: In their paws, feet and wings are super magnets that allow them to hang on to suitable surfaces.
The fluffy guys don't just like magnetic boards - they like any ferromagnetic surface. Therefore, they can be found on door frames, lamps, and shelves.
But they can also get a hold of places where there is no suitable surface for magnets, such as a backpack, cable or potted plant.
Hedgehog Iggy, bat Vampi, giraffe Kalula, owl Eulalia, bat Dragomir, sled dog Husky, teddybear Tom, elephant Sugar, lion Kumba, ladybird Nalani, polar bear Jari, penguin Frosty, and camel Jamal create a racket in our
virtual zoo
. One is cuter than the next. Which one is your favourite?
You have them all? No worries! The
MagNICI plush animals
complement our selection of magnetic animals perfectly.
Technical data
| | |
| --- | --- |
| Article ID | LIV-95 |
| Weight | 20 g |