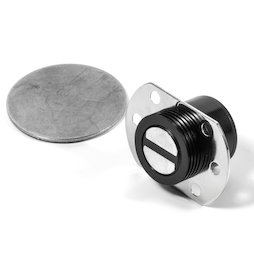 Door stop magnetic
to hold doors open
Description
This magnetic door stop will keep wooden doors open. To mount it, countersink the magnet on the bottom side of the door. For the necessary distance to the counterpart, position the two mounting plates in one of the existing grooves. Glue the included stainless steel plate to the floor at the desired location and the door will stay open in the chosen position.
Should you prefer not to countersink the door stop, you can also position it on the back of the door, screwing it into place close to the bottom of the door using accessory M-DOOR-02.
The built-in neodymium magnet is not suitable for outdoor use because it will rust and lose its magnetisation. Therefore, we recommend this door stop for indoor use only.
Included accessories:
1 stainless steel plate (ø 45x1.5 mm, self-adhesive)
2 round mounting plates (50x34mm each) with holes
Optional accessories: