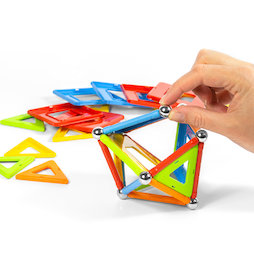 Geomag Confetti 50
magnetic construction set, 50 pieces
Description
Many fantastic structures and shapes can be constructed with the GEOMAG magnet construction kit. This variant of the GEOMAG "Confetti" line contains a total of 50 components in red, green, blue, yellow and orange. A true colour explosion! The magnetic bricks by GEOMAG are suitable for children from the age of three - but adults have at least as much fun with them.

The special feature of GEOMAG Confetti are the so-called panels. They give the magnet constructions more stability and can therefore be combined into more complexshapes. By the way: All GEOMAG magnet construction kits are compatible with each other. This allows for building even larger and more unusual structures.

Included in delivery:
16 magnetic rods, 14 metal balls, 10 triangular panels, 8 square panels, 2 pentagonal panels, 1 manual.
Technical data
| | |
| --- | --- |
| Article ID | TG-GEO-03 |
| EAN | 0871772003526 |
| Material | Polypropylen |
| Suitable for | 3 years |
| Brand | GEOMAG |
| Made in | Switzerland |
| Weight | 470 g/set |