CSN-ES-16
Countersunk pot magnet Ø 16 mm
strength approx. 6.9 kg
Available: 134'125 pieces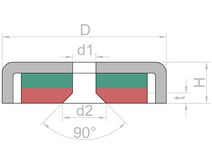 Prices
5 pcs.

1.48

CHF ea.
from
15 pcs.

1.28

CHF ea.
from
40 pcs.

1.13

CHF ea.
from
80 pcs.

1.04

CHF ea.
from
350 pcs.
according to quote
incl. 7.7% VAT

plus shipping
Request for quote Countersunk pot magnet Ø 16 mm
On working days you will generally receive an e-mail answer to your quote request within 24 hours.
Please note: China will observe a national holiday from 15/01/2020 until 05/02/2020. Since we cannot request any offers from our manufacturers at this time, our response to your request may be delayed until 06/02/2020.
If you have any questions, please feel free to contact us.
Tel. +41 43 399 03 59
[email protected]