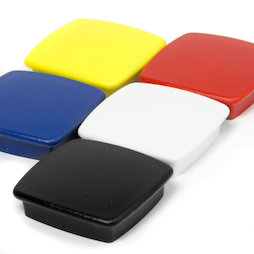 Boston Xtra square
set of 5 office magnets neodymium
Please select your desired model.
Description
Finally! An office magnet that is strong and pretty! The square whiteboard magnet Boston Xtra contains a super magnet and is therefore two to three times as strong as a standard ferrite office magnet. It scores additional points with rich colours and a fresh, some might even say, bold design. Give your office a touch of class and elegance with these hip, extra strong and durable super magnets.

Designed in Austria, assembled and packaged in a sheltered workshop in Switzerland: A solid product of high quality you will enjoy for a long time. Available in five colours. Made of tough, non-fading ABS plastic. Each set contains 5 magnets.
Read about more features and tips
Technical data
| | |
| --- | --- |
| Article ID | BX-SQ30 |
| Strength | approx. 1.5 kg (approx. 14.7 N) |
| Made in | Switzerland |
| Sticks to whiteboard | 12 A4 sheets |
| Cap | Plastic |
| Magnet | Neodymium, N42 |
| Length | 31,3 mm |
| Height | 9 mm |
| Weight | 54 g/set |