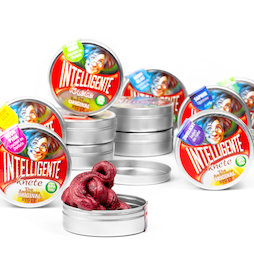 Smart putty "Mini"
in small tins, different colours, not magnetic!
Please select your desired model.
Description
If so far you haven't been able to decide on a single colour of the smart putty, the mini versions are the ideal solution for you. Now, you are able to try out many different colours and textures at a low price.
You may select from well-known and popular colours of this magic putty. Ruby, sapphire, and emerald from the Glitter product line sparkle as if millions of stars were trapped inside. Gold rush from the Metallic product line looks like molten metal. Amethyst, chameleon, sunshine, and twilight from the Camo product line change colour with heat. New among the minis are different neon colours that glow in the dark.
Special features of the smart putty:
Does not contain water and therefore does not dry out
Does not stick or stain and is not greasy – keeps hands clean
Is nontoxic and therefore suitable for children 4 years and older
Glitter particles also don't stick to your hands
Technical data
| | |
| --- | --- |
| Article ID | M-PUTTY-MINI |
| Table of Contents | 18 g |
| Weight | 29 g |