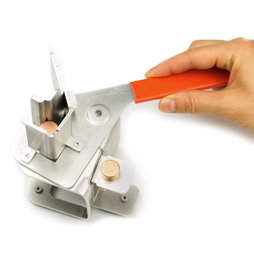 Magnet separator
hand tool to separate magnets
Description
Anyone who regularly deals with strong and small neodymium magnets is familiar with the problem: It's tough to separate the little ones once they are stacked up. It's not a matter of strength; they are just too hard to grab. Now there is a practical and professional solution: Our magnet separator.
The magnet separator is suitable for magnets with the following dimensions:
Cubes and blocks with square surface
Length: 5-20 mm
Thickness: 1-10 mm
Discs, rods and rings
Diameter: 5-20 mm
Height: 0.6-10 mm
Not suitable to separate sphere magnets.
Read about more features and tips
Technical data
| | |
| --- | --- |
| Article ID | WS-MST-01 |
| EAN | 7640155438858 |
| Material | Aluminium |
| Made in | Switzerland |
| Weight | 190 g |