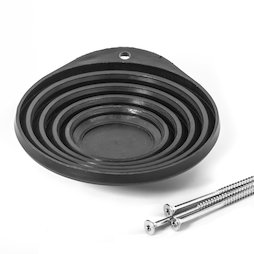 Magnetic bowl collapsible
made of rubber, for nails, screws, bits, etc.
Description
This magnetic bowl made of soft rubber can be folded flat to bring with you or store away - it doesn't take much room. When the magnetic bowl is completely folded, it is approx. 3 cm high. If it is completely unfolded, it is close to 9 cm high and has a diameter of 13.5 cm. Even the longest nail stays in there.

The magnet is located in the rubber base of the bowl, which ensures stability and prevents scratches. The magnet traps metal objects in the bowl, but you can also attach the bowl to any metal surfaces in a workshop.